Onam is one of the greatest festivals of Kerala. It is the festival, which the Keralites celebrate unitedly without the difference of caste and religion. Onam is a time for sports and festivities and in Kerala where one third of the area is low lying, covered with canals, lakes and backwaters; the people take to their boats and country crafts to celebrate. Colourful aquatic festivals are organized along the sacred river Pamba.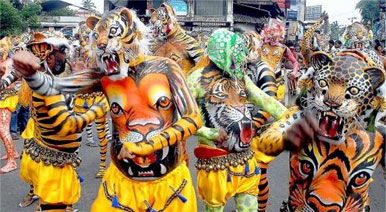 After three months of heavy rains, the sky becomes clear blue and the forests a deep green. The brooks and streams come alive, spitting forth-gentle white foam, the lakes and rivers overflow and lotuses and lilies are in full bloom. It is time to reap the harvest, to celebrate and to rejoice. The harvest festival of Onam corresponds with the Malayalam New Year, Chingam.
Onam is the most important harvest festival of Kerala and is an attraction for thousands of people within and outside the state. Ranging from four days to ten days, all the activities during this season are centered around worshiping, music, dances, sports, boat races and good food. It is celebrated in the Malayalam month Chingam (ending of August and beginning of September). Onam is a harvest festival, and celebrates the bounty of nature after a year of hard labour. Elaborate procession of Trichur and spectacular snake boat races on River Pampa mark the merry-making nature of the festival. Women dress up in new saris and heavy jewellery and make elaborate and intricate designs of rangolis (with coloured rice paste) and pookkalam (with flowers) in front of their houses.
Onam is a celebration of Ten days. People put flower mats in front of their houses, to welcome the King Mahabali. There is competition for the laying of flower mats; Keralites all over the world celebrate these ten days with pomp and gaiety. They wear new dresses, visits almost all the temples they can, performs lot of dances like Thiruvathira kali and Thumbi Tullal  and the most important thing is the grant lunch they  have on the Thiuruvonam day  which is also called the Fourth Onam. People of Kerela never miss the Grant lunch. A saying in Malayalam quotes "Kanam Vittu Onam Unnanam" which means "We should have the Thiruonam lunch even if we have to sell all our properties". They give that much importance to the lunch on the Thiruonam day.
Also Read: Images That Captures The Grand Cultural Extravaganza of Onam Festival
ओणम कैसे मनाएं और क्या पकाएं ये सब हिंदी में पढ़ें और जानें कुछ रोचक किस्से,  क्लिक करें